"I love my 2011 Ford Fiesta! On my first tank of gas, I got 47.5 miles per gallon. Since then, I have averaged 43-45 miles per gallon on every tank. This car is so much better than I expected! My car thinks it's a sports car - on the highway, it handles better than a Cadillac. The steering is quick and responsive and it feels like there is much more power than it really does. Thanks Camelback Ford!"
- Fred Wolf, owner of a 2011 Ford Fiesta


Dear Scott, Brian & Alex,
I can't begin to tell you all how happy I am. Scott, you personally made my day. You all made buying a beautiful new Ford truck a very exciting experience. You all were true to your word. You gave me everything thing you said you would & more with no strings attached. I drove by at least 3 or 4 Ford dealerships in order to come to Camelback Ford and I'm glad I did. I will be happy to spread the word to anyone and everyone that will listen to me. Camelback Ford sure did a fantastic job in delivering me a beautiful new Ford truck for an exceptionally competitive price.
I hope this is the beginning of a very long relationship to come. I was treated like family today.
Thanks so much.
Sincerely,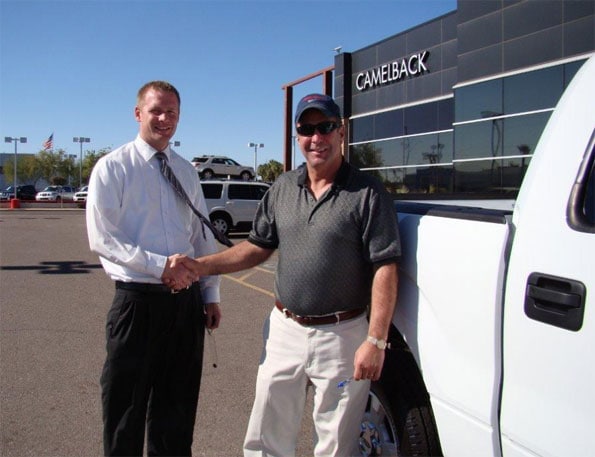 "The buying experience was great and the service was excellent. Every question I had was addressed. The process was smooth and painless and everybody catered to my needs. I loved the staff! They are good people who really did a good job of making this process go well. I love my new 2010 Lincoln Navigator!"
-Gani Lawal
Power Forward
Phoenix Suns