If you've been thinking about investing in an extended service plan, there are a few things you need to know.
A Ford Protect Extended Service Plan offers you additional protection and coverage for your vehicle. Each plan is 100% backed by The Ford Motor Company to ensure you get the care and the service you deserve.
Can You Finance Your Extended Service Plan?
You'll enjoy interest-free financing options if you'd like to finance your plan. There's no qualification process. Every customer is granted this option. Don't feel like you can't purchase the extended plan due to finances. Ford makes it easy.
If you plan to move or you enjoy traveling, you won't have to stress. Your protection comes with you. Every Ford and Lincoln dealer accepts this protection plan, including dealers in the United States, Canada, and Mexico. If you need a repair and you're in a new area, reach out to a local Ford or Lincoln dealer for assistance with your vehicle.
How Do repairs Work with Ford Protect?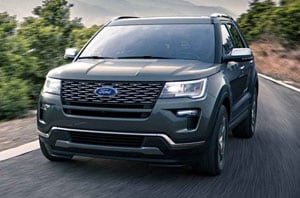 If you need a repair, you can rest assured that genuine Ford parts will be used and installed with the utmost care. Additionally, your coverage is completely transferrable. If you plan to sell your vehicle, the new owner will be able to benefit from this plan. This can increase the value of your vehicle as you look into selling.
Want even more benefits? You'll enjoy rental benefits with the protection plan if your vehicle needs to be kept overnight for a covered repair. Up to 10 days of rental benefits are included in the extended care plan options for your Ford vehicle.
Want to learn more? Visit us today to discover exactly how a Fort Protect Extended Service Plan can help you as you prepare for the future. Investing in a new vehicle is an incredible experience, but it's also important to protect that investment. With the right service plan, you can. Stop by or contact us to discuss your options for selecting a service plan that's right for you.