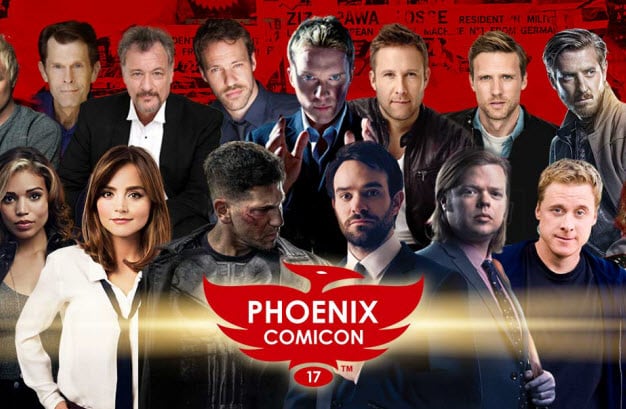 Put on your favorite cosplay outfit and head over to Phoenix Convention Center and Hyatt Regency on May 25-28, 2017. Phoenix Comicon will officially be back in action over Memorial Day Weekend, giving sci-fi enthusiasts and comic book fans the chance to come together and celebrate one of the biggest subcultures in the world!
This year's Phoenix Comicon offers four days of non-stop fun and excitement. Attendees will be able to enjoy over 700 exhibitors and a variety of scheduled events, including Cosplay Etiquette 101, Batman 66: 50+ Years of the Caped Crusaders, Star Wars Cosplay Meetup, Mystery Science Theater 3000 Fan Panel and a special Dick Van Dyke Panel featuring the legend himself. Additional TV and film stars scheduled to make appearances and offer autograph sessions include Danny Trejo ("Machete Kills"), Michael Rosenbaum ("Smallville"), Jon Bernthal ("The Walking Dead"), Charlie Cox ("Daredevil") and David Anders ("iZombie").
Several authors, voice actors, comic book writers and artists will also be on hand during Phoenix Comicon, such as Steve Argyle, D.B. Stanley, Curtis Armstrong, Dan Wells and Suzanne Young. To view the full list of guests and receive additional information about the event, check out the official site.
Tickets for Phoenix Comicon are currently on sale online now. Several ticket options are available, including one-day passes and four-day passes. Admission to special events and parties, including The Macho Café, Monster Girls Beach Party and Marvel vs. Capcom, can also be purchased online.
Have fun and enjoy!