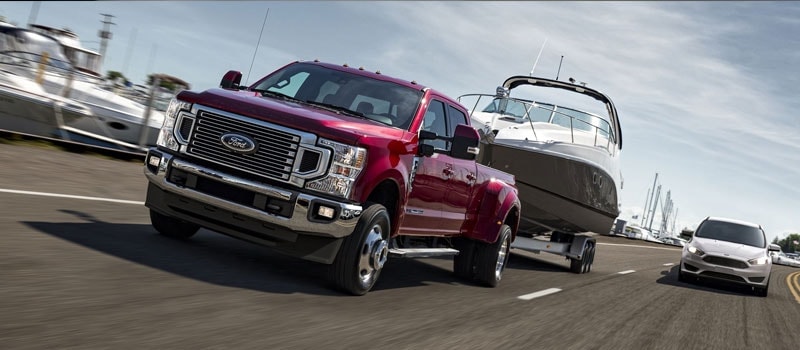 Ford New V-8 Is Going Bigger Than Ever
Engines seem to be getting smaller and smaller these days. However, Ford is bucking the trend with the introduction of a monster 7.3-liter V-8 engine. This engine will be available on 2020 models of Ford Super Duty Trucks from the F-250 to the F750.
More Power and More Size
According to the V8 manager at Ford, the new 7.3-liter V-8 is designed to be "overbuilt." That means the new V-8 will be able to handle just about any hauling, towing and driving needs for the everyday truck driver. The new V-8 will also be capable enough to handle most commercial truck needs.
The overhead-valve cam engine goes against the trend of relying on superchargers and turbochargers in order to get their power. That means that the engine is less complex and easier to maintain over the life of the vehicle. The new 7.3-liter V-8 replaces the 6.8L OHC V10 gas motor that was introduced back in 1997.
Paired with a 10-speed automatic transmission, the V-8 engine is expected to have more power and torque than its predecessor. In addition to being available on its Super Duty trucks, the new V-8 engine will also be available inside of Ford E-Series full-size vans and the F-59 and F-52 trucks. Overall, the new Ford 7.3 liter V-8 is expected to be the workhorse of the most powerful trucks and vans.
Take a Test Drive
Camelback Ford invites you to test drive the 2020 line of Super Duty Trucks. This is your opportunity to check out the new Ford V-8 firsthand. Our experienced sales team looks forward to showing you the special features of our new Super Duty trucks. Don't wait. Due to overwhelming demand, our inventory of 2020 Ford Super Duty Trucks will not last.