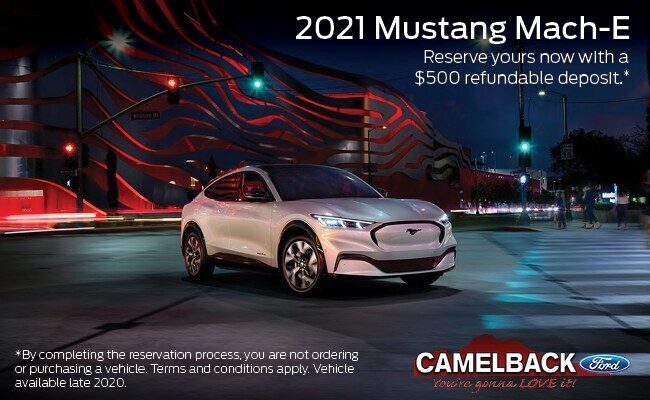 Get Ready to Meet the All-New 2021 Ford Mustang Mach-E!
When the 2021 Mustang Mach-E arrives in Phoenix, you can bet that it will be a hot ticket ride. If you want to make sure you get your hands on one of the first models available, pre-order yours today! You may be eligible to receive a $7,500 federal tax incentive for purchasing an electric vehicle.
What Features Are Available on the Mustang Mach-E?
Ford's new Mustang EV will have an available electric all-wheel-drive system, which equates to superior handling and capability. The car's projected 0-60 speed will be in the mid 3-second range for select trim levels. On top of intense speed and traction, the new Mustang Mach-E will offer an environmentally conscious performance. Select models are expected to deliver an EPA-estimated 300-mile range with pure electricity.
On the interior, you'll enjoy an impressive amount of passenger room and the latest tech features. When you have items to store, the front-load trunk will come in handy as well. The water-resistant 4.8 cubic foot space is washable and features a drain.
Another highlight is the Mustang Mach-E Limited Edition, which will be offered in a limited quantity as its name implies. This model will have exclusive features like red brake calipers, First Edition scuff plates, brushed aluminum pedals, interior contrast stitching and the option of a special Grabber Blue Metallic paint hue.
Ford Mustang Mach-E Trim Levels
First Edition
Select
Premium
California Route 1
GT
If you've been looking into electric sports cars, this one is worth waiting for. We'll have more information about the new addition to Ford's lineup as its arrival approaches. The Mustang Mach-E is expected to arrive in the Phoenix area in late 2020.
Reserve Your Mach-E Today!