Are you having problems with your Ford's car battery? You could be in need of battery replacement. In Arizona, car batteries typically last less than three years due to the excessive heat, leaving you helpless in the event your battery unexpectedly kicks the bucket. To prevent this from happening to you, there are a few warning signs you should keep an eye out for.
If you experience any of these below symptoms, bring your car into our Camelback Ford service center as soon as possible:
Bloating Battery Case
Battery cases often swell in the Arizona heat. If you notice unusual bloating it could be time for a new Ford car battery.
Slow Engine Crank
Does your car take long to start, or does it sometimes not start at all? This could indicate battery failure. A sluggish engine is always cause for concern and should be inspected immediately.
Dim Headlights
When your battery is on its way out, your headlights become dim from the lack of power. This also stands true for all in-car  lighting, which is also powered by the battery.
Low Battery Fluid
If your battery's fluid level is below the lead plates, be sure to have it tested at Camelback Ford. Car battery replacement may be in your near future.
How Can I Prolong the Life of My Ford's Battery?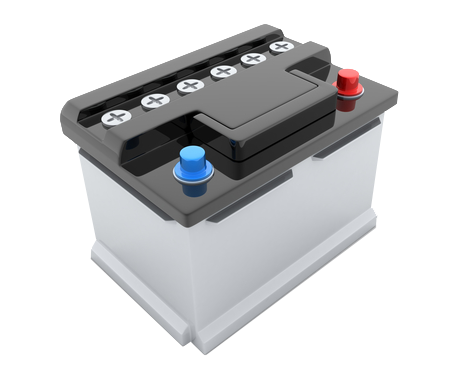 The best way to keep your car battery in excellent condition is by having it serviced on occasion. At Camelback Ford, we have a team of technicians that can help you ensure your battery is in good working order. By performing a battery diagnostic test, we can determine how much life your battery has in it and whether your Ford requires battery replacement in Phoenix. We can also clean your battery's terminals to prevent corrosion and  inspect your battery cable ends for damage.
On your own, you can help prolong the life of your car battery by unplugging any power adapters in your vehicle when they're not in  use and making sure all interior lights are turned off before you exit the car. In the instance that your car battery dies due to one of these issues, there you may be able to use a battery charger to get your vehicle running again, but there is still a good chance you will need to have your battery replaced.
Ford Batteries for Sale
Camelback Ford can handle all of your battery replacement needs. We have an inventory full of cheap car batteries and competitively priced car batteries for a wide range of Ford cars, trucks and SUVs. If you find yourself in need of a new car battery in Phoenix, schedule an appointment with us as soon as possible, and we'll help you find the perfect one for your vehicle.
Hours
Monday

7:00AM - 6:00PM

Tuesday

7:00AM - 6:00PM

Wednesday

7:00AM - 6:00PM

Thursday

7:00AM - 6:00PM

Friday

7:00AM - 6:00PM

Saturday

7:00AM - 4:00PM

Sunday

Closed