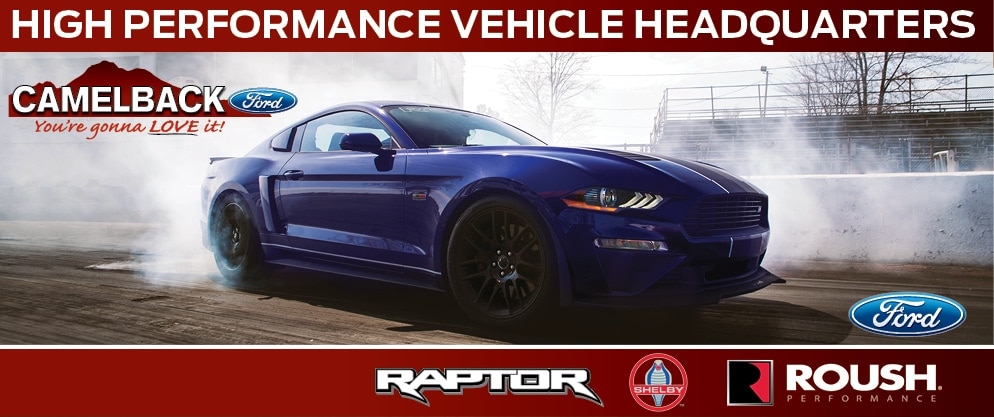 Roush. Shelby. Raptor. These are some of the most respected names in high-performance vehicles. Bridging the gap between the road and the track, Camelback Ford is proud to serve as the High-Performance Vehicle Headquarters in Phoenix for these amazing cars and trucks. From technology to design, shop our stock of American muscle cars or our specialty parts to build your own. Our goal is to provide our customers the ultimate driving experience-the perfect combination of the race car and road car.
What Is Roush Performance?
Roush Performance group provides premium parts that allow people to customize their car and get the highest performance possible out of their vehicle. Here at Camelback Ford, we know firsthand just how incredible Roush parts enhance our lineup and are confident that you will notice and appreciate the difference in quality. That's why we have partnered with them to bring you all the best parts and kits on the market, from body kits and suspension kits, to superchargers.
What Is a Ford Shelby?
The classic Ford Mustang Shelby instantly comes to mind when you think of American sports cars. This automotive masterpiece takes the regular Mustang to a whole new level and is essentially a high-performance version. We proudly offer the finest muscle cars for sale in Phoenix at our dealership, including the Shelby GT, GT350, F-150, Raptor, and other Shelby models. There are many reasons these excellent cars are so sought after. Learn more about what sets these extraordinary Ford Shelbys apart from standard Mustangs.
What Is a Ford Raptor?
If you're looking for a truck that can handle anything and has exceptional off-roading capabilities, the F-150 Ford Raptor is the right choice. The increasingly impressive Ford Raptor continues to dominate the market because of its immense horsepower, tuned suspension, and many other features. Learn more about the Raptor's latest features, and if you're truly interested in high-performance muscle trucks for sale in Phoenix, browse our impressive collection of Ford F-150 Raptors while you're at it!
Muscle & Sports Cars Near Me
At Camelback Ford, we carry some of Phoenix's best muscle and sports cars for sale. As we've mentioned, our partnership with Roush means we have all the best parts and kits available, as well as impressive Roush and Shelby inventory on-site. We don't leave truck enthusiasts out either, with access to jaw-dropping Raptor trucks that you're sure to love. Visit us or schedule an appointment soon to test drive and learn more about high-performance cars for sale! We know how much of a difference it makes to drive best-in-class vehicles and love sharing that experience with anyone interested!