Owning a new or used Ford car not only comes with a fun driving experience and exciting high-tech amenities, but also a few maintenance requirements that help keep both you and your car healthy and safe. One of the most important areas of car maintenance is brake service, which ensures that this necessary piece of safety equipment is functioning the way it should.
How Do My Brakes Work?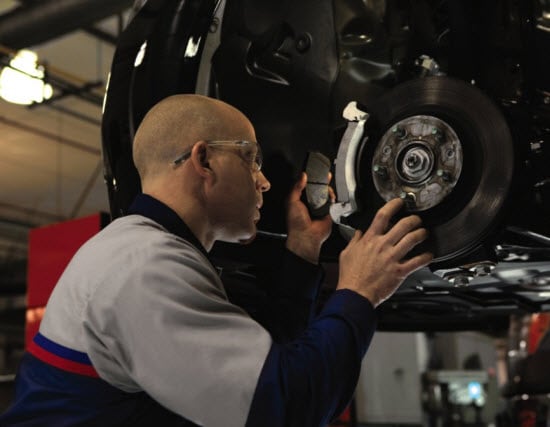 To better understand what goes into brake service, it's best to understand exactly how your brakes operate. Basically, your brakes work off of a complex system that uses several parts, including calipers, brake pads and rotors.
The system is activated when a driver presses the brake pedal, which pushes brake fluid to the calipers. The calipers then press against the turning rotor, stopping the car. Brake pads provide a cushion between the calipers and the rotor, helping to avoid any damage that could be created by the metal objects grinding together.
The Basics of Ford Brake Service
Now that you know how brakes work, it's easy to see what parts technicians will be looking at. If you bring your car in for regular service intervals, depending on what is recommended in your owner's manual, your service technician will primarily look at your brake pads to make sure they haven't worn down too much. They'll also check to ensure that the rotor and calipers are working properly as well.
Signs You Might Need Brake Service
There are several signs that your car might be in need of an inspection at our local brake repair shop in Phoenix, including:
A pulling of your car in one direction when braking
A shaking in the steering wheel when braking
A loud grinding noise or screeching sound when braking
A slowing of your stopping time
To find out more about caring for your brakes and about the types of brake service we offer here at Camelback Ford, visit our Phoenix Ford service center today. Also, be sure to check out our excellent online brake service coupons to find great deals on this important service.