Your transmission is one of the most complex and important components of your car. Transmission maintenance is one of the key factors in keeping a car in top working condition and protecting its resale value. Luckily, transmissions tend to be fairly low-maintenance parts of your car. However, the guidelines set out by the manufacturer in how your car's transmission needs to be cared for should be followed to the letter. While taking care of your car's transmission can go a long way towards ensuring that the car will run 200,000 miles or much more, neglecting transmission maintenance can be one of the most certain ways to cause problems.
When Should I Change My Transmission Fluid?
Knowing when to change the transmission fluid in your car can be tricky without having the right information at your disposal. Fortunately, almost all cars come with user manuals that spell out exactly what the maintenance schedule for the vehicle's transmission should be. Some factors that affect how often a transmission should be serviced and its fluid changed include such things as whether or not it's a manual transmission, how hot the average ambient temperature is where the car is driven, whether the car is driven primarily in city or highway setting and a whole host of other factors.
When Was Your Last Service?

If you aren't sure when you should have the transmission on your Ford serviced or how often you should get the fluid changed, our dealership's expert staff will be more than happy to help you determine that. We have some of the most highly trained technicians around, all of whom are experts on Ford vehicles. The single best thing you can do for your Ford vehicle's transmission is to ensure that it is being attended to by trained experts who spend all day, every day, servicing Ford vehicles.
I change my own oil. Can't I change my own transmission fluid too?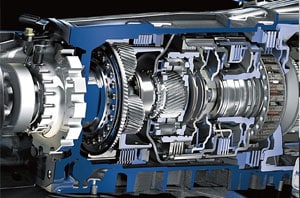 While there are some non-professional mechanics who do have the tools, skill and experience necessary to change their own transmission fluid, servicing transmissions is much more complex than changing oil and should really only be done by trained professionals.
Our dealership has the trained technicians and advanced tools to ensure that any defect that may be forming inside of your transmission will be caught and corrected before it has a chance to grow into a potentially catastrophic issue. Some Ford vehicles also have closed transmission systems, meaning that they can only be accessed, and their fluid changed with the use of specialized tools.
Keeping transmissions in top working order should be a main goal for anyone concerned with the longevity of their vehicle. Call us to schedule an appointment today.