About F-150 Reviews for 2015 from Camelback Ford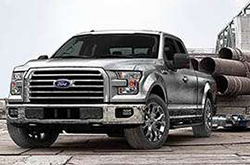 When striving for excellence, playing it safe is no fun - especially when you're already the best. For the past 30 years or so, F-150 has been the nation's top-selling light duty pickup truck, claiming new fans from one generation to the next. Now in its latest phase of reinvention, Ford has done something bold. Or more than bold, in fact. To be accurate, Ford has redefined the American pickup and what they've done is revolutionary.
Nixing the steel cab for a lightweight all-aluminum body is one of the biggest changes for F-150 and it's resulted in a massive 700 pound weight reduction. Using a lighter structure allows the truck to tow more, haul more and live by Ford's "Go Further" philosophy by providing greater fuel economy, which 2015 Ford F-150 reviews have been buzzing about.
Getting down to specifics, the thirteenth generation Ford F-150 now offers a new standard 3.5-liter V-6 engine with twin independent variable camshaft timing, as well as an available new 2.7-liter EcoBoost V-6 with efficiency enhancing Auto Start-Stop. The new powerplants join Ford's proven twin-turbo EcoBoost V-6 and Ti-VCT V-8, carryovers from last year.
For 2015, F-150 boasts an increased, best-in-class tow rating of 12,200 pounds when properly equipped. That's 200 pounds more than the GMC Sierra and Chevy Silverado, and F-150 pulls it off with a twin-turbo V-6, rather than a V-8 like its GM competitors. If you want best-in-class payload, F-150's 5.0-liter V-8 also tops the leader board with the ability to haul up to 3,300 pounds - hundreds more than the competition. Whether for work or play, when you own a 2015 Ford F-150 in Phoenix, we're sure its maximized capability will be a benefit.
Those shopping for a 2015 Ford F-250, F-350 or F-450 in Phoenix also have plenty to look forward to. Across all Super Duty models, Ford's second-gen Power Stroke turbo-diesel V-8 now offers 440 horsepower and 860 lb.-ft. of torque, a considerable increase from last year.
For complete details about the redesigned F-150, as well as information about the Super Duty lineup's changes, please contact or visit Camelback Ford. To compare F-150 to other light duty trucks, please see the Dare to Compare feature at the bottom of our 2015 Ford F-150 review.