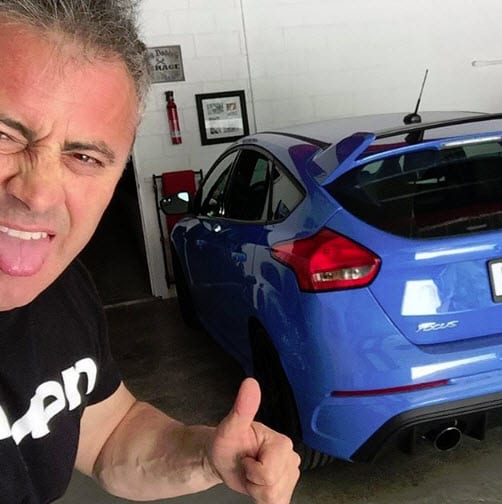 While most famous for his role as Joey in the sitcom "Friends," actor Matt LeBlanc is gaining notoriety in a new role as one of the hosts on "Top Gear." LeBlanc is a genuine gearhead who's known for doing a lot of work on his own cars and his enthusiasm for all things auto has been a highlight on the latest season of the show.
LeBlanc has gotten to drive some of the world's most awesome vehicles while working on "Top Gear"; yet, as a daily driver, he chooses the all-new Ford Focus RS! He's one of the first to own one, and as far as we can tell, he's psyched about his purchase.
His friend Ken Block, a famed rally driver, posted the image above on Instagram and heartily proclaimed that he approved of LeBlanc's vehicle choice. By the way, Block actually assisted in developing the track-inspired Ford Focus RS, which is a model that car enthusiasts have been dying to have in the States for a long while.
Two years ago, when we first wrote that the Focus RS was finally coming to America, it was a jump-for-joy moment. Now the hot hatch is available for order at Camelback Ford!
To give you a little insight as to why there's so much buzz surrounding the RS, get a load of its features: The new model is equipped with a 2.3-liter EcoBoost engine that gets a best-in-class 350 horsepower. Other notable equipment includes a standard Ford Performance All-Wheel-Drive System with Dynamic Torque Vectoring, four different driving modes including "Track" and "Drift," and Ford's new Sync 3 infotainment interface which includes a large touchscreen, navigation and smartphone integration.
Give us a call soon if you're interested in learning how you can get your hands on the Ford Focus lineup's newest star: the RS!