About Ford Reviews From Camelback Ford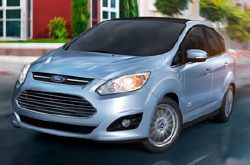 Into last year's ever-growing hybrid segment Ford introduced the capable and fuel-efficient C-Max and C-Max Energi. The C-Max provided the Blue Oval with a direct competitor to the Toyota Prius and offered shoppers the chance to own a vehicle that matched or even exceeded Prius mpg numbers. The C-Max Energi proved to be the brand's first solid attempt at a plug-in hybrid. Much like competitors like the Chevy Volt, the C-Max Energi can operate on electric-only power for up to 21 miles before switching to a combination of electric/gasoline power. The 2014 Ford C-Max and Ford C-Max Energi return with revised transmission ratios and slight exterior tweaks for better aerodynamics in an attempt to increase fuel economy beyond last year's impressive numbers. Drivers in Phoenix searching for an affordable, reliable and fun-to-drive car owe it to themselves to test drive each of these newcomers to the hybrid market.
The 2014 Ford C-Max is available in Phoenix in SE and SEL trim levels, while its plug-in counterpart, the C-Max Energi, is available in a single, well-appointed SEL trim level. The C-Max derives its power from a 2.0-liter four-cylinder engine with 141 horsepower and 121 lb.-ft. of torque. This setup is paired to a lithium-ion battery pack that increases the output to 188 horsepower. Thanks to the extra horsepower, new Ford C-Max drivers in Phoenix can expect to go from 0-60 about two full seconds quicker than most other hybrids, so keep an eye out for a Prius or two in your rearview mirror.
Early 2014 Ford C-Max reviews indicate that this year's changes will not only improve fuel economy over the previous model year, but further refine the C-Max line in terms of appearance and drivability. Buyers can count on standard and optional features like: the SYNC infotainment system with MyFord Touch, navigation, full power accessories, dual-zone climate control, cruise control, a power rear lift gate, leather seats and much more. Continue reading the Ford C-Max review below or contact Camelback Ford for more information on Ford's capable hybrid C-Max lineup.