Check Out the New 2014 E-150 From Camelback Ford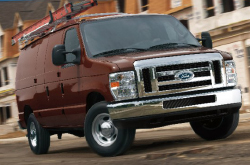 With over 30 years of market domination the Ford E-Series line of work vans are just the thing a business needs to thrive in a competitive marketplace. Versatility, customization and power are synonymous with the E-Series, thanks in no small part to the variety of add-ons and individualized parts buyers can choose from. With seating for up to 15 people and a best-in-class tow rating of 10,000 pounds, there's no better alternative to the 2014 Ford E-Series line of vans. Noteworthy features this year include a navigation system with a 6.5-inch touchscreen, the Crew Chief telematics and diagnostics system for fleet or crew management, and an integrated trailer brake controller for safe operation when hauling larger loads.
The 2014 Ford E-Series is available in Phoenix in E-150, E-250, E-350, Wagon, Cargo Van, Extended and Cutaway models, each with a variety of trim levels for optimum personalization. Three powerful engines allow owners to select the precise amount of power needed. A 4.6-liter V8 with 225 horsepower and 285 lb.-ft. of torque comes standard on the E-150; a 5.4-liter V8 with 255 horsepower and 350 lb.-ft. of torque comes standard on E-250 and E-350 models; and a 6.8-liter V10 with 305 horsepower and 420 lb.-ft. of torque is optional on the E-350. Four- and five-speed automatic transmissions are standard, as is front-wheel drive.
Nearly every Ford E-Series review out there praises this work van for its ability to haul a truly amazing amount of people and cargo, but what's not often mentioned is the level of interior comfort and relative refinement. Compared to other work vans, the E-Series certainly holds its own and offers some nice perks not seen in other models. Standard and optional features include: the Crew Chief telematics system, which allows you to track your fleet on the go or diagnose usability issues, cloth upholstery, keyless entry, the SYNC infotainment system, navigation, a rearview camera, a six-speaker audio system with satellite radio, a power outlet, air conditioning and much more. Buyers can also equip their van with a variety of bins, storage racks and drawers for hauling goods safely on the road. To learn more continue reading the 2014 Ford E-Series review below or reach out to the fleet specialists at Camelback Ford.