Check Out the New 2015 Mustang From Camelback Ford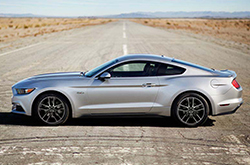 A decade ago, Facebook was reserved for college students, but today pets and cars can have their own pages, too. When it comes to the latter, there's one model that's gotten the most clicks on the ol' FB thumbs-up icon: Ford Mustang. The pony is not only a silver-screen star with Hollywood looks, but also a social-media icon with more likes than Grumpy Cat.
At 50 years old, Mustang is far from geriatric. Its age belies its youthful performance and dramatic contemporary styling. Just check out the video and additional photos at the bottom of our 2015 Ford Mustang review - seeing is believing. Though in this case hands-on experience is even better, so visit us soon for a chance to test drive the 2015 Mustang in Phoenix.
For its 50 anniversary, the world-renowned 'Stang re-imagines American muscle with a new rear suspension that offers enhanced driving dynamics; a more aggressive look that Mustang mavens and novices will love; and (gasp) the debut of an all-new turbocharged four-cylinder engine, which joins the 300-horsepower V-6 and the Mustang GT's 435-horsepower V-8.
Ford's performance leader may be headed in a more fuel-efficient direction, but its trademark swagger is in no way compromised. Whether you choose the coupe (fastback) or the convertible (roadster), every model shows off a dominant stance, exceptional handling and an engine growl that'll make the hairs stand up on the back of your neck. Add the available Selectable Drive Modes and you'll have the perfect performance - no matter the driving environment.
2015 Ford Mustang reviews also admire the lineup's in-cabin features and technologies. From an all-new inflatable airbag restraint that offers enhanced protection to updated SYNC infotainment with voice-command technology, Mustang combines connectivity, safety and comfort like few other performance cars.
Want to purchase an all-new 2015 Ford Mustang in Phoenix, Ariz.? Contact us today for details about incentives!