Review the 2016 Mustang from Ford Dealer in Phoenix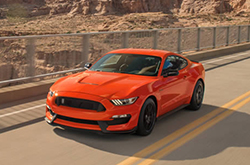 Following its 50th anniversary and complete redesign last year, Mustang returns with updates that further modernize its classic formula. The legendary muscle car now includes Ford's new SYNC 3 infotainment interface, which offers a more simplified user experience with speedier processing, improved voice recognition, a streamlined menu layout and new touch controls that make using the system similar to using a tablet or smartphone.
The 2016 Ford Mustang in Phoenix is offered in two body styles (coupe and convertible) and five trim levels, including the Mustang V6, EcoBoost, EcoBoost Premium, GT and GT Premium. There's also an all-new Mustang Shelby GT350/350R that you have to see to believe. Basic SYNC functionality is offered on entry-level models, but for anyone who wants the full-fledged SYNC 3 system, it comes standard on the EcoBoost Premium and above trims. Other updates this year include an optional new black-painted roof on EcoBoost and GT coupes, as well as flashy new hood vent turn signals on the GT.
Last year, Mustang gained a more contemporary edge with an updated exterior design and the debut of an efficiency-focused turbo four-cylinder engine, which does not disappoint in terms of power. With the integration of a new independent rear suspension, performance also became noticeably more refined and today's shoppers will still benefit from the suspension's effect on handling and ride comfort. In addition to enhanced efficiency, refinement and style, 2016 Ford Mustang reviews say the car now offers added versatility with the expansion of its equipment groups. This year, GT coupes and convertibles are available with the lineup's Performance package and an all-new California Special package, while the EcoBoost trim receives a new Pony package option.
Although the new turbo four-cylinder has gained a lot of attention over the past year, when you come test drive the 2016 Ford Mustang in Phoenix you'd be missing out if you didn't try the base 3.7-liter V6 or the GT's 435-horsepower V8. Schedule a test drive today and come experience true performance from one of the nation's most iconic sports cars!
Want to know how the legendary Mustang compares to its competitors? Check out the comparison tool at the bottom of our 2016 Ford Mustang review!